Someone spray painted a swastika and an anti-Ukraine message at the home of a Langley teacher who has been flying a Ukraine flag outside her home since the Russian invasion began.
Kiersten Bisgaard posted pictures online of the graffiti after she made the discovery, on Thursday March 9, of a swastika spray-painted on her gate and a "Ukraine = Nazi" message sprayed on the sidewalk.
"Someone spray painted our gate and sidewalk with disgusting hate either during the night or during the day," Bisgaard said. "Evidently they did it in response to our Ukrainian flag that we've had flying since shortly after the invasion."
Bisgaard told the Langley Advance Times her initial reaction was one of "disappointment and frustration."
She called it "idiotic."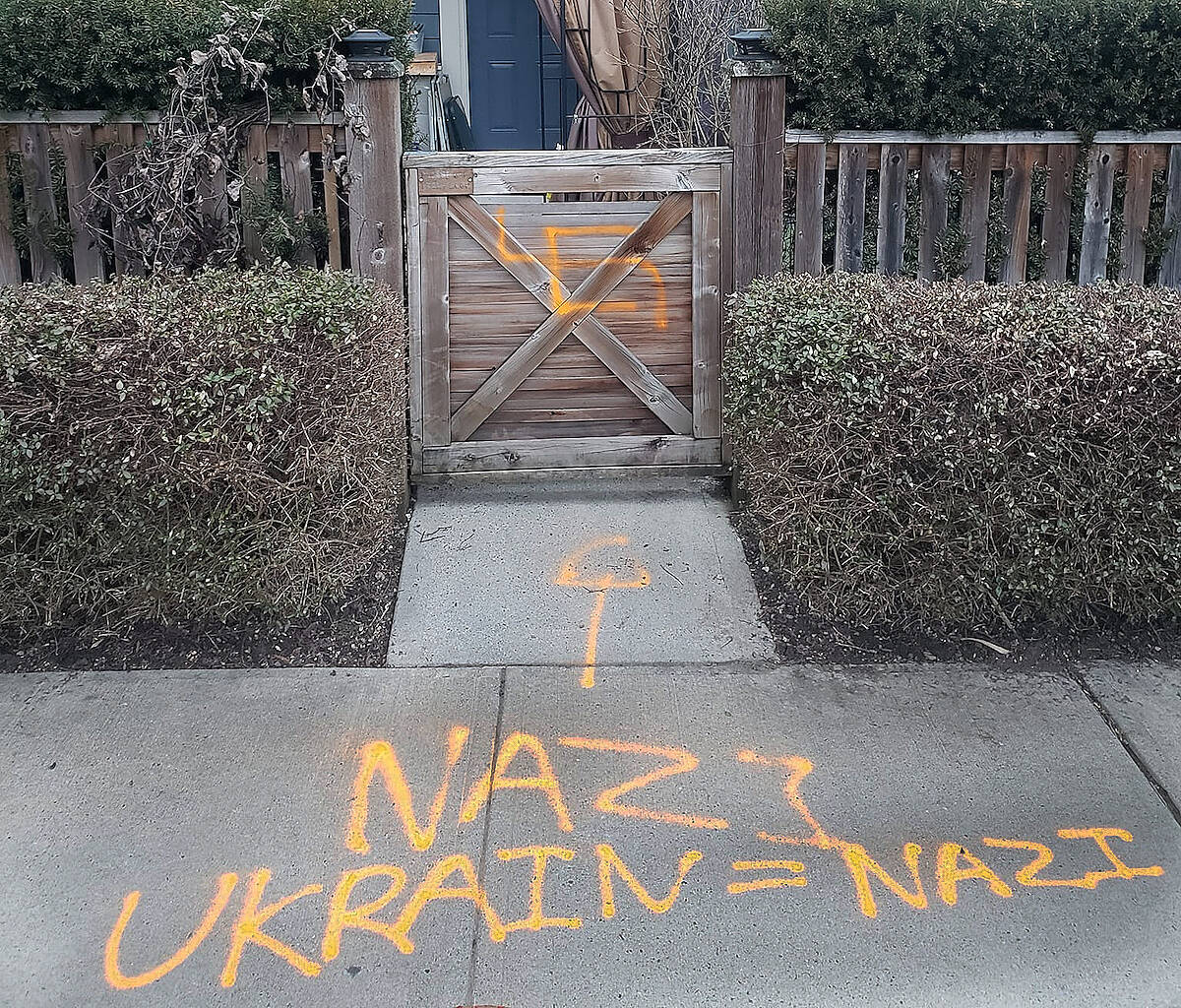 "In case you haven't heard, Putin's propaganda machine has depicted Ukraine's government as infiltrated by Nazis," Bisgaard noted.
"And yet, living inside are two grandchildren of WWII vets," she said, referring to herself and her husband.
When Russia launched the war, president Vladimir Putin claimed it was because the Ukrainian government was heavily influenced by radical nationalist and Neo-Nazi groups, an accusation that has been rejected by Ukraine president Volodymyr Zelenskyy, who happens to be Jewish, and the countries who support the Ukrainian resistance.
Bisgaard has reported the matter to police and added a second flag.
"We won't be intimidated," she said.
Langley RCMP confirmed an investigation is underway.
Cpl. Craig van Herk said the detachment received a "report of concerning, derogatory graffiti being spray painted on the sidewalk and gate in front of a residence.
Cpl. van Herk said the incident remains under investigation and police are asking anyone with information to contact the Langley RCMP.
"There have been no other incidents reported and no threats or comments directed toward the residents," van Herk said.
On Friday, March 10, someone painted over the graffiti, added a heart, and changed the message so it now reads "Go Ukraine."
"It gave me a chuckle," Bisgaard said.
Bisgaard said her neighbour has now put up a Ukraine flag, too, and she's been getting messages of support online and in person since she went public.
"The community response has been wonderful," Bisgaard said.
"It's reassuring."
READ ALSO: From Russia to Langley City: A Ukrainian couple's story
READ ALSO: VIDEO: Refugees from Ukraine celebrate a traditional Christmas in Langley City
---
Have a story tip? Email: dan.ferguson@langleyadvancetimes.com
Like us on Facebook and follow us on Twitter.